Last Updated on September 4, 2020 by Maxwell Harris
Is hemp the new beauty trend ?! The majority of people associate cannabis directly with smoking, but this is not necessarily true. Hemp can be used in many ways. It can go into your salads as well as to heal skin irritations and as a hair care. Because the hemp oil contains many healthy ingredients and vitamins for all types of hair.
Read about some of the other uses of the hemp plant in our guide.
What makes hemp seed oil effective?
Hemp oil has all the necessary fatty acids that the body needs. These fatty acids stimulate the growth of the skin and hair. Gamma-linolenic acid is another important ingredient in hemp, which is very good for hair. This acid can especially help against the dryness of the scalp of the hair. Another ingredient is the 25% protein it contains.
Since human hair is 97% protein, the oil additionally strengthens the hair and improves the feeling and appearance.
The oil contains many ingredients that soothe a flaky and dry scalp and give the hair shine. This is due to the essential omega-3 and omega-6 fatty acids it contains. Through them, the scalp is protected from external influences and damaged, brittle hair can be softened, thus making it appear fuller and healthier.
The hemp plant has been used since ancient times and its importance and effect on the health have been well known. Full of nutrients, this plant is so versatile, it can be used to make practically everything. The hemp oil, in particular, is extracted from the seeds and is one of the healthiest types of oil because its ratio of omega-3 and omega-6 fatty acids is optimal.
Hemp oil does not have a psychoactive effect, is an excellent edible oil and can be used for internal and external application. The oil is obtained through a gentle cold pressing process and only through this production process does it unfold its full-bodied taste and its overall health benefits. The valuable ingredients are thus completely preserved.
In a nutshell 
Hemp oil is the ideal choice for those who need some extra nourishing and care. The fatty acids provide both the hair and scalp with abundant moisture. The hemp oil contains vitamins, minerals and fiber to nourish the hair and keep it healthy.

Hemp oil is the most versatile hair care, here is why:
Hemp seed oil hydrates the scalp
Hemp oil helps relieve itchy and dry scalp. The good and essential fatty acids provide the scalp with a moisture boost. Alpha-linoleic acid and linoleic acid are very similar to the natural fatty acid of the skin and therefore provide it with the ideal nutrient supply. Hemp oil also contains minerals, free radicals, vitamin E, vitamin B1 and B2. The free radicals protect the skin from harmful substances from the environment and UV radiation. They ensure a smooth and healthy scalp. Vitamin E has a positive effect on hair growth. It also protects the hair from blow-drying heat
Especially in winter the scalp is strained and dry due to heating air. It often causes itching and urges many people to scratch. This results in an irritated scalp, which is accompanied by a burning sensation. Hemp seed oil with its gamma-linolenic acid inhibits the inflammation and soothes the irritation and lets this burning and itching subside.
Hemp seed oil helps fight hair loss
The fatty acids in the oil stimulate the formation of cells. This helps to slow down or in some cases completely stop hair loss and promotes the formation of new hair roots. Hemp seed oil is also suitable for accelerating hair growth, because with some people it takes a long time until they reach their desired hair length. For this purpose, it is sufficient to simply put some hemp oil in your hands and massage it into the roots of your hair. The oil gives the hair strength and the improved supply of oxygen accelerates hair growth.
It prevents brittle tips
If the hair is brittle and strained, hemp oil can help before the tips really break off. It provides a beautiful shine and reduces split ends when it is spread in the hair. The hair is easier to comb, which has a positive effect on hair care and has a strengthening effect.
Hemp seed oil can be a natural anti-dandruff remedy
Also for dandruff and dry scalp hemp oil is a valuable helper for the hair. The unsaturated fatty acids and the saturated fatty acids provide abundant moisture. It is best to massage the hemp oil into the scalp and let it work overnight. Hemp oil can also be used for body care in case of neurodermatitis.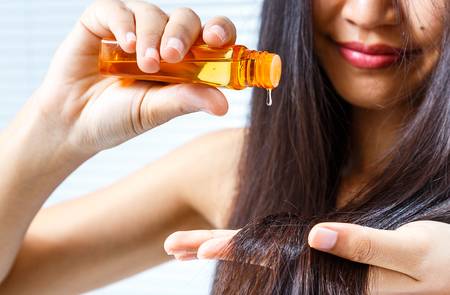 How to use hemp seed oil on the hair?
Health on the outside, starts from the inside. Therefore, in addition to hair treatments, you can simply use hemp seed oil in your salar or dizzle it over bread.
However, if you really don't like the taste of hemp seed oil, you can just use in on the hair directly. The oil can be mixed with your favorite shampoo or conditioner.
The hemp oil on its own ca be used as a hair mask. Simply massage it into the scalp and comb it into the hair. Let it soak into the hair for at least 20 minutes, then wash it off as you would any other hair mask.
Treat your hair once a week and make sure you don't go overboard with the oil. Rinse it out thoroughly to avoid greasy-looking hair.
If you don't have time for hair masks but still want to integrate hemp oil into your daily hair routine then a DIY hemp oil shampoo might be the solution for you.
How to make DIY hemp oil shampoo?
To make the shampoo, mix a quarter cup of shampoo, a quarter cup of water and half a teaspoon of hemp oil. The shampoo is not only easy to make, but also quite inexpensive. Just like normal shampoo,use it as you would any other shampoo and wash it out thoroughly.
The end result is healthy-looking, shiny and strong hair.