Last Updated on January 29, 2021 by Maxwell Harris
Consumers who want to take advantage of the potential benefits of cannabidiol (CBD), the popular non-intoxicating cannabinoid in the cannabis plant, are likely to encounter not only oil with CBD but also a variety of CBD creams and other topical products.
Since the legal regulations for CBD products made from hemp are loosened all over the world, the health and wellness market has been flooded with various CBD products.
So you are probably wondering, "What is a CBD cream?", "What do creams and ointments with CBD bring?" and "Are CBD creams better than CBD oil?"
We have the answers for you!
The so-called "topicals" infused with CBD include CBD lotion, CBD ointment, CBD creams and transdermal plasters, which are applied to the skin to alleviate problems on the surface of the skin or even deeper in the muscle tissue. As the name suggests, CBD cream is a cream-based substance that contains CBD. Most beauty creams are generally about half oil and half water.
CBD cream is available in different forms. It can contain the isolated compound of CBD; a distillate that contains CBD and some other smaller cannabinoids; or a broadband oil that contains CBD, smaller cannabinoids and terpenes. CBD cream can be used to relieve pain and inflammation of the skin and to help treat skin conditions and moisturize the skin when applied to the affected area.
What is the difference between CBD creams, CBD ointments and CBD lotions?
The difference between CBD products such as creams, ointments and lotions lies in the consistency of the CBD products. As with products that are not spiked with CBD, it really depends on your personal preferences which CBD products, in cream, ointment or oil with CBD you choose.
Since creams usually have a thicker consistency, creams with CBD can be better tolerated for very dry skin. In contrast, ointments or balms are made with oil and wax and without water. The cream is usually absorbed faster than ointments, so creams are preferable for muscle pain.

What is CBD cream used for?
When CBD products are applied to the skin, they not only benefit the skin surface but also beneath it. When CBD is applied to the skin, the cannabinoid ingredients like CBD penetrate both the dermal and subdermal skin layers.
The human body has an endocannabinoid system (ECS) that regulates appetite, mood, and pain and pleasure sensations. Cannabinoids like THC and CBD can activate our body's endocannabinoid system by binding to cell receptors in the skin, muscle tissue and nerves. This function explains why CBD creams are mainly used for chronic pain or inflammation.
Studies show that phytocannabinoids like CBD interact with receptors and other enzymatic factors in our skin that cause pain and inflammation. Since the skin is quite thick, ingredients like CBD are absorbed into the skin when using the CBD cream. However, the CBD does not get into the bloodstream. The cream interacts with CB1 receptors – if THC is present – and other receptor families such as the TRPV receptors and factors such as PPAR-gamma and COX-½ and TNF-alpha. With these interactions, CBD in cream or ointments can affect pain and the inflammatory response.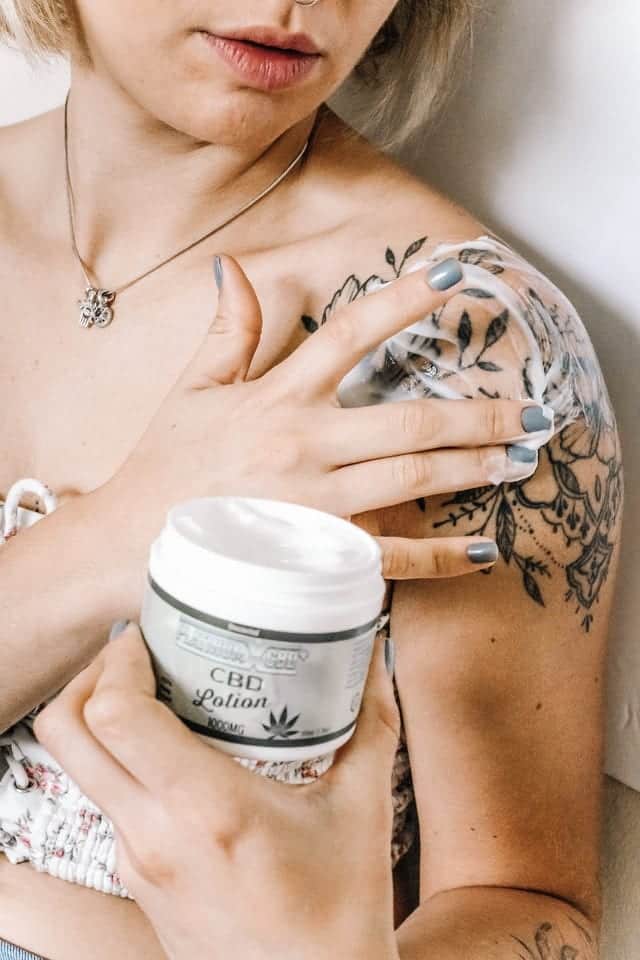 How to use CBD cream
In general, the use of CBD creams, CBD ointments and other CBD products for the skin is extremely easy. If you know where the pain or discomfort is in the body, you can easily bring CBD products such as creams and ointments around this area for local use.
The use of CBD creams and CBD ointment is similar to applying a normal cream without CBD, which moisturizes the skin. Getting the right dose of CBD on the skin is not that easy. It is important to find out how many milligrams of CBD are in the cream or ointment to determine if enough of this cannabinoid is present to provide therapeutic relief from the CBD. A cream or ointment with a low amount of CBD is probably less effective than products with a higher concentration of CBD.
Start with a low dose of CBD and gradually increase the amount of CBD cream until you find optimal therapeutic relief through the use of the creams or ointments. If the cream is a topical medicine infused with hemp, there are no known side effects to worry about.
What are the positive properties of CBD cream?
CBD cream from hemp has many positive properties. The main potential benefits of creams and ointments with CBD include reducing pain and inflammation, alleviating skin problems and helping wound healing. Thanks to its ingredients, it is also very effective in moisturizing the skin.
A US study that discussed the potential benefits of CBD oil for arthritis pain patients found that acute arthritis inflammation in arthritic rats was reduced by local treatment with CBD, such as in creams or ointments. Researchers from the University of Colorado found that cannabidiol creams and ointments also appear to be effective in treating skin conditions such as psoriasis, severe itching, and atopic and contact dermatitis.
Another study found that topical CBD and THC in cream are effective in treating pain and symptoms in healing malignant wounds.
Much of the scientific evidence points to the ability of CBD in cream or CBD oil to positively influence pain, inflammation and the histamine reaction when used topically. Research has shown that CBD in cream reduces redness, helps with painful arthritic joints, and speeds up the healing process.
How do I find the right CBD cream or CBD ointment?
Not all CBD products are the same. Before you buy a cream with CBD, you should, therefore, make sure that the CBD ointment or cream has been tested and that the products contain a measurable amount of CBD.
For up-to-date advice about the online purchase of CBD, read our guide here.
Since CBD oil and related products are not yet regulated, consumers need to take additional steps to ensure they use a good quality CBD ointment or cream with cannabidiol. In a 2017 U.S. study, researchers tested 84 CBD products from 31 companies and found that only 31 percent of CBD creams and ointments were labeled with just the right amount of CBD. One way to ensure that the manufacturer of a cream or ointment with CBD is reputable is to only buy products with CBD that have a certificate of analysis from a third-party testing laboratory.
Another way to ensure the quality of a particular CBD cream is to buy a product made in a Current Good Manufacturing Practice (CGMP) facility that must meet certain FDA standards to qualify .
Many experts prefer full-spectrum products due to the potential entourage effect. This is the idea that components of the cannabis plant work better together than if the ingredients are isolated.
Typically, products infused with a broad spectrum CBD extract have more effective properties than products with CBD that contain isolate or distillate.
How can you make CBD cream yourself?
Putting together your own CBD cream can provide more accurate dosing and control over the CBD used in the cream.
For example, if you have a 30 milliliter bottle with 1,500 milligrams of CBD, this corresponds to 50 milligrams per milliliter. With these dosage parameters, you can find out how much CBD oil you should put in the carrier cream, depending on the amount of CBD cream you want to make.
It is also important to find the most effective blending ingredients that mix properly with CBD oil or CBD isolate. You can also very well use a carrier oil like coconut oil, shea butter, CBD tincture or isolate from cannabidiol to make your own hemp CBD cream.
Time needed: 30 minutes.
There are various recipes and ingredients you can use to make your own CBD cream. The most common method is:
Melt your base

Take coconut oil or shea butter and melt it at a temperature between 32 and 38 degrees Celsius

Add CBD

Add your preferred dosage of CBD oil.

Add wax

Take a separate saucepan and melt two ounces of beeswax.

Mix

Add the oil with CBD as soon as the wax base begins to melt at a temperature of 62 to 64 degrees Celsius

Stir

Keep stirring and test the consistency until the desired cream has formed.

Add extras

You can also add essential oils to the mix once you've found the right creamy consistency.

Let it cool

Finally, let the mixture cool in a glass or container before applying the homemade CBD cream directly to the skin.
References